 Gloria Apati DrMedVet MRCVS
Gloria graduated in 2016 at the University of Veterinary Medicine in Budapest and then moved to the UK. She worked in an externship role for three months as a very busy stud vet, then moved to Newmarket and spent a year at Rossdales Equine Hospital as an intern in diagnostic imaging, where her role was mainly taking X-rays and advanced diagnostic images of thousands of horses across all disciplines. Whilst there, Gloria developed a strong interest in equine sport medicine and diagnostics. After her internship she spent a couple of months travelling around the world with her husband before working in Hungary for six months as an ambulatory vet and an assistant to a dental specialist. Gloria then moved back to the UK in early July 2018 and joined Scott Dunn's. Besides orthopaedic cases she enjoys dealing with wounds and internal medicine cases. When not working Gloria loves travelling, playing her violin and visiting family and her semi-retired horse back in Hungary. Amy McCarthy DVM MRCVS
Amy grew up in Ireland and has been involved with horses from an early age, competing in pony club and show-jumping over the years, then on to represent Ireland at the Young Breeders World Championships in 2009. During Amy's studies she spent her free time working in the thoroughbred industry in Ireland, the UK and the USA, as well as completing an internship at KESMARC (Kentucky Equine Sports Medicine and Rehab Clinic). In 2015 she graduated from Warsaw University of Life Sciences and spent the next 3.5 years working in a busy equine clinic in the Home Counties, where she has dealt with a wide varied caseload. She enjoys all aspects of equine practice with a keen interest in poor performance. Amy is also approved by the ARVS to attend point to point meetings. During her free time Amy breeds Irish Sport Horses and enjoys the outdoors with her Jack Russell "Pops". Iain McKenzie BVM&S Cert AVP (ES-O) MRCVS
Iain qualified from the Royal (Dick) School of Veterinary Studies, Edinburgh in 1999. He received a class medal for reproductive studies and completed electives in soft tissue surgery and respiratory tract disorders. His first position was in a busy mixed practice in Loch Lomond, Scotland. After two and a half busy years his equine interests took him, at first as an Intern, to the Troytown Equine Hospital in Ireland, a renowned centre of equine excellence. Subsequently he was then employed as an assistant for 10 months. Iain has been with us since September 2003. His areas of interest are the diagnosis, management and surgery of lameness conditions along with equine internal medicine and a certificate in equine orthopaedics. Chris Neal BSc (Hons) BVSc MRCVS
Chris joined us in 2016 from a busy equine practice in Northamptonshire. Having grown up in Surrey, he is especially excited to be working close to home again. His interests centre around Equine Sports Medicine and Poor Performance evaluations and is studying for a certificate to further his knowledge in the area. In his spare time, he is a keen hockey player and golfer and enjoys ticking off his challenge of visiting 100 countries before he is 50. Robert Oulton BSc(Agr) DVM MRCVS
Robert joined us in October 2018. He completed an Honours degree in animal science before going on to the Atlantic Veterinary College in Canada, where he graduated in 2002. Robert has a special interest in management of competition horses, spending much of his time with lameness/poor performance and pre-purchase examinations. He has been the Under 21's Team Veterinarian for British Dressage since 2014, now working with the Pony, Children On Horses, Junior and Young Rider Squad members, as well as working as Team Veterinarian for the 2** European Eventing Championships in 2013 and 2015. In 2017, he joined the support team for the British Equestrian Federation Podium Potential squads, in particular working with the Eventing and Para Dressage Squads. Robert is an FEI Veterinary Delegate in Dressage and a member of the Association of Racecourse Veterinary Surgeons.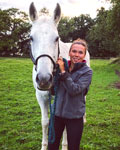 Liberty Stewart-Moore
Groom/Nurse
Libby Joined Scott Dunn's after completing her final exams at Moreton Morrell College, where she studied for a degree in Equine Science and she is now looking to progress her career in care, management and welfare of the horse. Apart from looking after her own horses, Libby has worked as a part-time groom, a nanny/groom and camp yard manager for Wokingham Pony Club. In her spare time she enjoys competing and hacking out on her horses.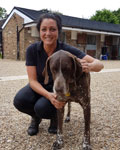 Devon Thomson
Groom/Nurse
Devon comes from Ireland and has several years experience working at racing yards and studs in Australia and New Zealand and more recently at The National Stud in the UK. Devon is currently studying for a BTEC in Equine Nursing as a Technician and is passionate about the welfare of all horses under her care.