Laura Perkins RVN
Head Nurse
Laura graduated from Warwickshire College in 2008 after studying Equine Science. From there she worked at Redwings veterinary unit and a small private British Warmblood stud before starting with Scott Dunn's in 2010. Laura takes a keen interest in the post-operative care of in-patients. Laura qualified as an Equine Registered Veterinary Nurse in 2015. Alongside the running of the hospital yard, Laura is a vet assistant and driver for Kempton and Sandown National Hunt meets. Laura has been around horses from a very early age and has her own horse, Houdini, along with a very lively Pointer called Bentley.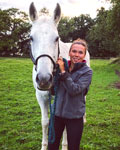 Liberty Stewart-Moore
Groom/Nurse
Libby Joined Scott Dunn's after completing her final exams at Moreton Morrell College, where she studied for a degree in Equine Science and she is now looking to progress her career in care, management and welfare of the horse. Apart from looking after her own horses, Libby has worked as a part-time groom, a nanny/groom and camp yard manager for Wokingham Pony Club. In her spare time she enjoys competing and hacking out on her horses.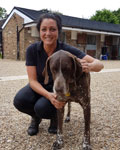 Devon Thomson
Groom/Nurse
Devon comes from Ireland and has several years experience working at racing yards and studs in Australia and New Zealand and more recently at The National Stud in the UK. Devon is currently studying for a BTEC in Equine Nursing as a Technician and is passionate about the welfare of all horses under her care.
Emily Topping
Groom/Nurse
Emily graduated from Myerscough College in 2010 specialising in breeding, since then she has worked in America and Spain for International dressage riders. She returned to the UK and worked in Great Windsor Park for three years as a private groom. Outside of work you can usually find Emily boxing, playing football or in the gym.