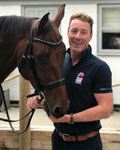 Robert Oulton BSc(Agr) DVM MRCVS
Senior Veterinary Surgeon
Robert joined us in October 2018. He completed an Honours degree in animal science before going on to the Atlantic Veterinary College in Canada, where he graduated in 2002. Robert has a special interest in management of competition horses, spending much of his time with lameness/poor performance and pre-purchase examinations. He has been the Under 21's Team Veterinarian for British Dressage since 2014, now working with the Pony, Children On Horses, Junior and Young Rider Squad members, as well as working as Team Veterinarian for the 2** European Eventing Championships in 2013 and 2015. He is now the support team vet for the British Equestrian Federation Podium Potential squads, in particular working with the Eventing and Para Dressage Squads. He is also an FEI Veterinary Delegate in Dressage and a member of the Association of Racecourse Veterinary Surgeons. Robert was recently promoted to our clinical lead as Senior Veterinary Surgeon.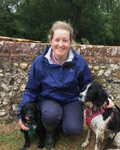 Chloe Marsden BSc(Hons) BVSc CertAVP MRCVS
Chloe grew up in North Bucks surrounded by animals and was determined to be a vet from the age of seven. She graduated from Liverpool University in 2009, spent 18 months in mixed practice and has spent the last nine years in 100% equine practice in Essex. Chloe has particular interests in internal medicine and imaging, completing a Certificate in Advanced veterinary practice in 2014. She will be easily recognisable by the two waggy Spaniels in the car!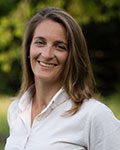 Camilla Strang BVetMed MSc DIC MRCVS
Camilla graduated from the Royal Veterinary College (RVC) as a veterinary surgeon in 2009 and went straight in to equine practice. She completed an internship at Sussex Equine Hospital in 2011 and continued to work here until 2014, splitting her time between the hospital, focusing on lameness investigations and supporting the ambulatory team.

In 2015, Camilla obtained a Masters in Epidemiology from Imperial College, London, after which she joined the Epidemiology team at the Animal Health Trust. Here, her focus was on the surveillance, management and control of equine disease outbreaks, advising both vets and industry. In addition, she looked after the resident pony herd here, and rehomed one of the welsh ponies, whom she is having a lot of fun with prepping him to be her young son's first pony!

Camilla has recently finished a PhD at RVC researching antibiotic usage and antibiotic resistance, and is now looking forward to returning to practice, meeting and looking after your horses. She will be accompanied by her very friendly Irish Terrier, Olive.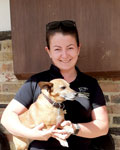 Amy McCarthy DVM MRCVS
Amy grew up in Ireland and has been involved with horses from an early age, competing in pony club and show-jumping over the years, then on to represent Ireland at the Young Breeders World Championships in 2009. During Amy's studies she spent her free time working in the thoroughbred industry in Ireland, the UK and the USA, as well as completing an internship at KESMARC (Kentucky Equine Sports Medicine and Rehab Clinic). In 2015 she graduated from Warsaw University of Life Sciences and spent the next 3.5 years working in a busy equine clinic in the Home Counties, where she has dealt with a wide varied caseload. She enjoys all aspects of equine practice with a keen interest in poor performance. Amy is also approved by the ARVS to attend point to point meetings. During her free time Amy breeds Irish Sport Horses and enjoys the outdoors with her Jack Russell "Pops".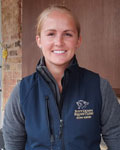 Helen Bryant BVetMed (Hons) MRCVS
Helen graduated in 2018 from The Royal Veterinary College, London. After graduation Helen volunteered with SPANA in Marrakech and then joined Rainbow Equine Hospital in North Yorkshire on a busy two year Internship programme. Helen has gained experience in routine and emergency cases including dentals, skin complaints, worming, poor performance, lameness investigation, medicine and anaesthetics for various surgical cases.
Gloria Apati DrVetMed MRCVS
Veterinary Surgeon
We are all very excited to welcome Gloria Apati back to the Scott Dunn's team. She graduated in 2016 in Budapest and moved to the UK immediately after. She completed a diagnostic imaging internship at Rossdales Equine Hospital and worked in Hungary for 8 months next to a dental specialist.

Gloria then worked with us a few years ago and due to personal circumstances went to work at an equine practice near the south coast for a couple of years. She has now returned with a wealth of experience and specifically enjoys poor performance cases, lameness investigations, imaging and dentistry.

Outside of work she is a dance instructor, teaching Bachata in Reading and she plays violin in the local Ceilidh band.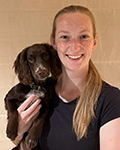 Jessica McGugan BSc BVSc MRCVS
Veterinary Surgeon
Jess joins us as a fresh graduate, expanding the vet team to 8. Jess is in the CVS Equine Graduate Programme which runs for two years. So she will not only be providing routine treatments to all our clients and assisting the other vets with more complex cases but the programme also ensures she will receive an extensive range of training in clinical knowledge, professional skills and pastoral care. Jess graduated from Bristol University in 2023 from their accelerated graduate entry veterinary course, having previously completed a degree in Biological Sciences at Exeter University with a year studying abroad at the University of Guelph in Canada.

In her spare time Jess enjoys skiing and horse riding and recently survived a side saddle taster lesson. Jess has moved back to Surrey where she grew up and looks forward to getting started in practice with her young cocker spaniel Ginny in tow.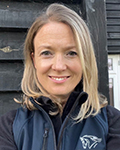 Elizabeth Corbett BVetMed CertAVP(EM) MRCVS
Veterinary Surgeon
Liz graduated from the Royal Veterinary College, London in 2007. After graduation she joined a busy 10 vet equine practice in Shropshire, where she gained experience in a broad range of first and second opinion routine and emergency cases. During her time there she completed a Certificate in Advanced Veterinary Practice with a focus on equine medicine. In 2013 she then moved to an 100% equine ambulatory practice in Shropshire, where she gained further experience in equine general practice.

Having now relocated to Berkshire with her young family, she looks forward to getting to know our clients and the local area.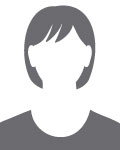 Babette Van Bree DVM MRCVS
Out Of Hours Vet
Babette qualified from Belgium in 2018 and then went to the States to complete an equine internship. She came back to Belgium to work for a period before coming to the UK to work with Equicall.