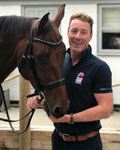 Robert Oulton BSc(Agr) DVM MRCVS
Senior Veterinary Surgeon
Robert joined us in October 2018. He completed an Honours degree in animal science before going on to the Atlantic Veterinary College in Canada, where he graduated in 2002. Robert has a special interest in management of competition horses, spending much of his time with lameness/poor performance and pre-purchase examinations. He has been the Under 21's Team Veterinarian for British Dressage since 2014, now working with the Pony, Children On Horses, Junior and Young Rider Squad members, as well as working as Team Veterinarian for the 2** European Eventing Championships in 2013 and 2015. He is now the support team vet for the British Equestrian Federation Podium Potential squads, in particular working with the Eventing and Para Dressage Squads. He is also an FEI Veterinary Delegate in Dressage and a member of the Association of Racecourse Veterinary Surgeons. Robert was recently promoted to our clinical lead as Senior Veterinary Surgeon.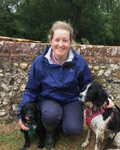 Chloe Marsden BSc(Hons) BVSc CertAVP MRCVS
Chloe grew up in North Bucks surrounded by animals and was determined to be a vet from the age of seven. She graduated from Liverpool University in 2009, spent 18 months in mixed practice and has spent the last nine years in 100% equine practice in Essex. Chloe has particular interests in internal medicine and imaging, completing a Certificate in Advanced veterinary practice in 2014. She will be easily recognisable by the two waggy Spaniels in the car!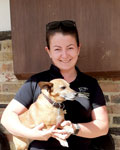 Amy McCarthy DVM MRCVS
Amy grew up in Ireland and has been involved with horses from an early age, competing in pony club and show-jumping over the years, then on to represent Ireland at the Young Breeders World Championships in 2009. During Amy's studies she spent her free time working in the thoroughbred industry in Ireland, the UK and the USA, as well as completing an internship at KESMARC (Kentucky Equine Sports Medicine and Rehab Clinic). In 2015 she graduated from Warsaw University of Life Sciences and spent the next 3.5 years working in a busy equine clinic in the Home Counties, where she has dealt with a wide varied caseload. She enjoys all aspects of equine practice with a keen interest in poor performance. Amy is also approved by the ARVS to attend point to point meetings. During her free time Amy breeds Irish Sport Horses and enjoys the outdoors with her Jack Russell "Pops".
Rita Gervasio MRCVS
Rita graduated from University of Evora, Portugal in 2017. After graduation, she worked in a busy ambulatory equine practice in the south of Portugal mainly with dressage, endurance and leisure horses, gaining experience mainly in lameness, dentistry, emergency medicine and reproduction. Rita then undertook an internship and post graduate diploma in Equine Clinical Practice within the University of Bristol (Langford), with experience in intensive care, medicine, surgery, imaging and lameness.
Rita is keen to further advance her skills and knowledge by completing a Certificate in Advance Veterinary Practice in the near future. She enjoys most aspects of equine medicine and surgery, with her main clinical interests being ophthalmology, gastroenterology, respiratory medicine and imaging.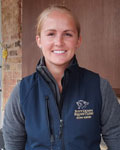 Helen Bryant BVetMed (Hons) MRCVS
Helen graduated in 2018 from The Royal Veterinary College, London. After graduation Helen volunteered with SPANA in Marrakech and then joined Rainbow Equine Hospital in North Yorkshire on a busy two year Internship programme. Helen has gained experience in routine and emergency cases including dentals, skin complaints, worming, poor performance, lameness investigation, medicine and anaesthetics for various surgical cases.
Helen is new to the area so is looking forward to meeting clients and finding her way around the Thames Valley!
Linnea Hesse BVMSci MRCVS
Linnea graduated from the University of Surrey in 2019, she has a particular interest in diagnostic imaging and loves all aspects of general ambulatory practice. Linnea was the Education Secretary for the Equestrian Club whilst at University and competed in dressage and show-jumping.
When she isn't working Linnea spends most of time training her young collie cross Pippa.
Sara Jones-Richards BVetMed MRCVS
Sara Jones-Richards joined us in August 2020, through Equicall, as our dedicated Out of Hours emergency vet. Sara qualified in 2014 and has worked more recently as a locum in many prominent equine practices, including us last year (so you may have already met her). Sara will also be working closely with the rest of our ambulatory team, who will continue to cover 50% of our out of hours visits. This will help to reduce our current vets working hours, where they work all day and then have to cover a busy night on duty, giving them a better work-life balance and ensuring that we can continue to give an excellent service to our clients and their horses 24/7. Please be assured Sara is very much part of the Scott Dunn's team, there are no other changes to the way we work.