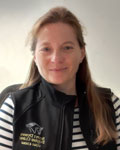 Laura Feather
Practice Director
Laura joined us in March 2014, as Practice Manager. She has had a diverse career working within the recruitment industry, where she ran her own business for several years and then in a large mixed veterinary practice in Yorkshire. She has a wealth of experience in business and operational management and was recently promoted to Practice Director. Laura learnt to ride at a young age and worked with horses for several years where she gained her BHSAI.
Ann Aslett
Practice Administrator
Ann joined us in October 2019, having previously worked in the banking and customer service industries and more recently worked as an administrator in another equine practice. Ann is also a qualified Equine Sports Massage Therapist and enjoys riding her horse, Beanie and competing at local events.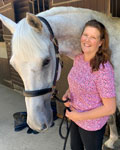 Lindsey Rea
Receptionist
Lindsey joined us in August 2020 as Receptionist/Administrator. She will be here covering for Kelly whilst she is on maternity leave. Lindsey has excellent customer service experience including working for the police dealing with emergency calls and has also had a couple of horses up until a few years ago, so she is well equipped to deal with your calls.
Pauline Wagstaff
Receptionist/Administrator (maternity cover)
Pauline has extensive customer service skills and is extremely organised as she worked for many years as an Executive Assistant in the IT/Recruitment sector working with senior level directors, clients and suppliers. Horses have been a passion of Pauline's from a young age and she has worked as a volunteer at a riding school in her former years and more recently at a local children's equine charity. Her other big passion in life is riding motorbikes, her current bike going by the name of 'Luvduck'!
Kelly Robinson
Receptionist /Administrator
Kelly comes to us with over 14 years' experience in a customer service position and has also been a client for many years. A keen equestrian, Kelly can be seen out at local riding club events on her horse Rocky, along with her Cavalier King Charles Spaniel called Halo.