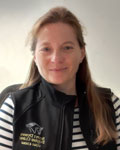 Laura Feather
Practice Director
Laura joined us in March 2014, as Practice Manager. She has had a diverse career working within the recruitment industry, where she ran her own business for several years and then in a large mixed veterinary practice in Yorkshire. She has a wealth of experience in business and operational management and was promoted to Practice Director in 2019. Laura learnt to ride at a young age and worked with horses for several years where she gained her BHSAI and until recently was competing at medium level in dressage and unaffiliated eventing.
Ann Aslett
Practice Administrator
Ann joined us in October 2019, having previously worked in the banking and customer service industries and more recently worked as an administrator in another equine practice. Ann is also a qualified Equine Sports Massage Therapist and enjoys riding her horse, Beanie and competing at local events.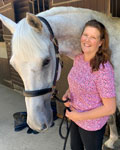 Lindsey Rea
Receptionist
Lindsey joined us in August 2020 as Receptionist/Administrator to initially cover for Kelly whilst she was on maternity leave and is now a permanent member of the team. Lindsey has excellent customer service experience including working for the police dealing with emergency calls and is kept very busy outside of work riding her friends horse and looking after her two young boys, Oliver and William.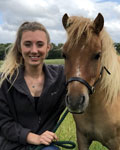 Megan Miller
Receptionist
Megan joined the team in June 2019 with several years experience working on busy livery yards, she also has some retail and customer service experience. After several years of working as a PCA Megan has now taken on a new challenge now working as one of our Receptionists.

Megan loves riding her own horse where she regularly compete across various disciplines and in previous years has hunted with the SC & RMA Sandhurst Draghunt.