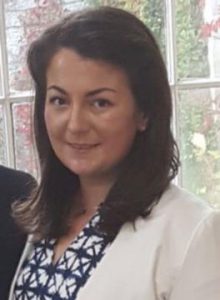 Here at Scott Dunn's Equine Clinic we would like to wish a warm welcome to our new vet, Amy McCarthy.
Amy grew up in Ireland and has been involved with horses from an early age, competing in pony club and show-jumping over the years, then on to represent Ireland at the Young Breeders World Championships in 2009.
During Amy's studies to become a vet she spent her free time working in the thoroughbred industry in Ireland, the UK and the USA, as well as completing an internship at KESMARC (Kentucky Equine Sports Medicine and Rehab Clinic). In 2015 she graduated from Warsaw University of Life Sciences and spent the next three and a half years working in a busy equine clinic in the Home Counties, where she has dealt with a wide varied caseload. She enjoys all aspects of equine practice with a keen interest in poor performance. Amy is also approved by the ARVS to attend point to point meetings.
During her free time Amy breeds Irish Sport Horses and enjoys the outdoors with her Jack Russell, Pops.